Charter Schools
Higher Education
Independent Schools
International Schools
Public School District
12 Schools Honored for Excellence in Marketing and Communications
Sam Lipscomb
The lights dim. Conversations hush. A figure emerges on the red carpet in the doorway, his suit boasting navy and white argyle diamonds. Master of Ceremonies Red Abbott weaves through the crowd, taking selfies, giving high fives and throwing Finalsite socks as often as he can. It can mean only one thing: it's time for the inaugural Finalsite Double Diamond Awards!
Celebrating our 20th year was a highlight of Finalsite University in Chicago last month, commemorated in the best way we know how: a new awards ceremony focused on our amazing schools. Our goal was to shine a light on the work our schools put in every day to create compelling content and make the most of Finalsite modules and tools.
The 2019 Double Diamonds saw 128 nominations, 47 finalists and finally 12 winners in this first year, but the inspiration was immeasurable.
Read on to see what it took to become our first Double Diamond Award Winners. The following twelve schools will receive their shiny (and heavy!) awards in the coming weeks. We can't wait to see them on display all over the country!
---
Best "Bang for the Buck" Time Saver Award
Winner: Stone Ridge School of the Sacred Heart

What the judges said: "Saving time can take many forms, and we saw excellent submissions for course catalogs, weekly and monthly emails, and even grant recipients. Judges loved the added efficiency and value to an internal process by using Forms Manager for such an essential function as job applications."
Stone Ridge School of the Sacred Heart is a Catholic, independent, college-prep school for girls grades 1-12 with a co-educational early childhood program. They are located in Bethesda, Maryland, 3.5 miles from Northwest Washington, DC.
The Stone Ridge employment web page is one of the top 20 most visited on their website. All job opportunities are posted to this page with an online application that an applicant must fill out to get a job interview. Their director of curriculum and professional development manages this page and all applications that come in, and human resources gets a copy. Stone Ridge has cut down on paperwork and saves time putting everything online, making it is easier to review necessary information at a quick glance. And it's working: from April 2018 through April 2019 the page had 12,523 views, with 2,763 forms filled out since 2012.
Stone Ridge is launching its new website redesign this summer!
---
Best Content Offer Award
Winner: St. Benedict's Preparatory School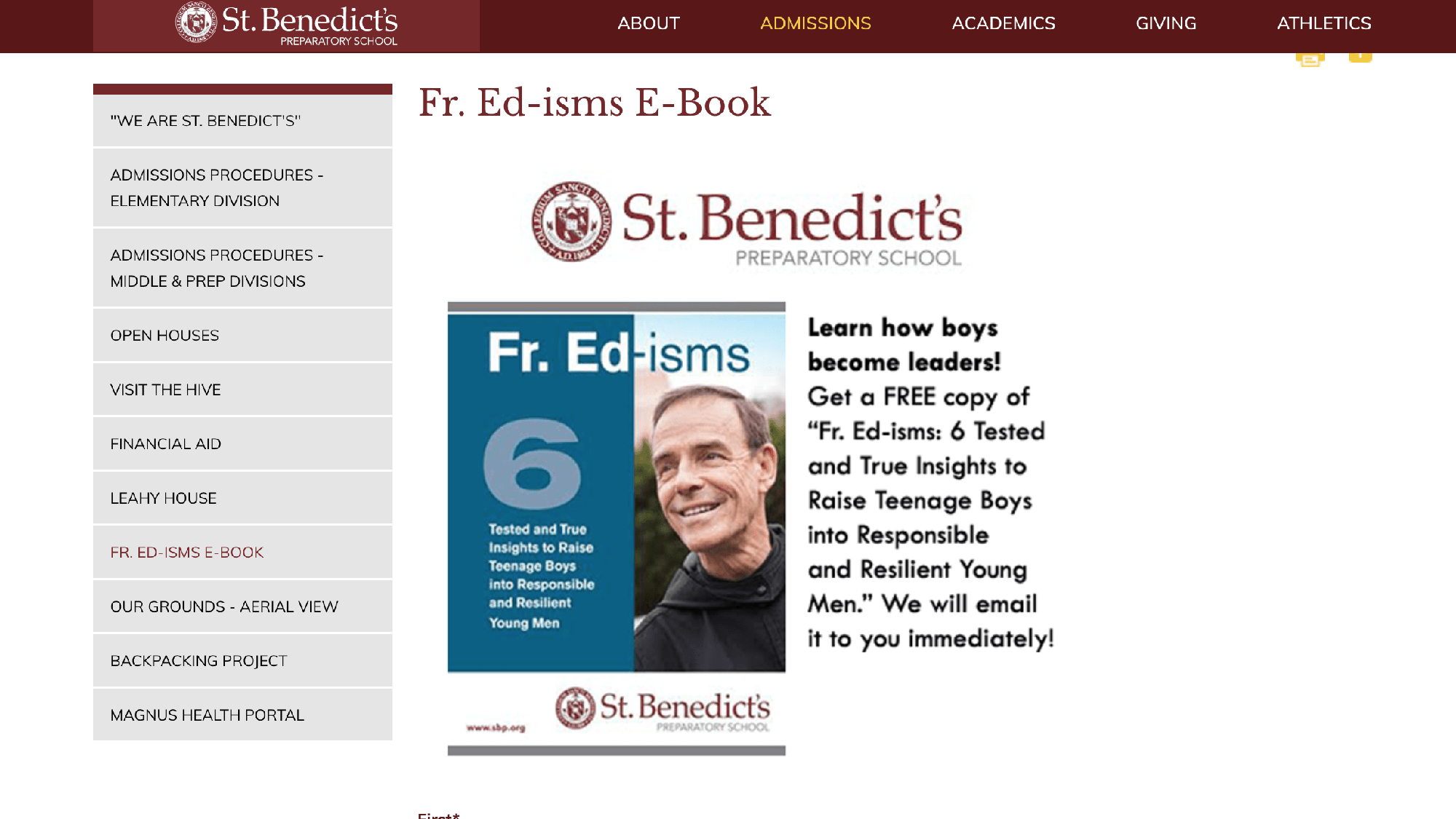 What the judges said: "Judges were impressed by content offers that appealed to broad audiences and stuck firm to collecting the minimum amount of data necessary to move forward with inbound marketing. The winner took advantage of a clever title and an established community influencer. Users receive fantastic marketable content that speaks to them in a personal, human way."
St. Benedict's Preparatory School prepares boys grades K-12 and girls grades K-8 in and around Newark, New Jersey with a college preparatory curriculum.
St. Benedict's Prep offers an e-book titled: "Fr. Ed-isms: 6 Tested and True Insights to Raise Teenage Boys into Responsible and Resilient Young Men" meant for visitors to learn how boys become leaders. Father Ed is a prominent member of the St. Benedict's community, allowing the content to build on his credibility. Their content offer is highly appealing to visitors of the site from multiple constituencies, not just prospective families. Their form collects only four data points and has been filled out 229 times since September 2017.
---
Best Directory Award
Winner: Lakeside School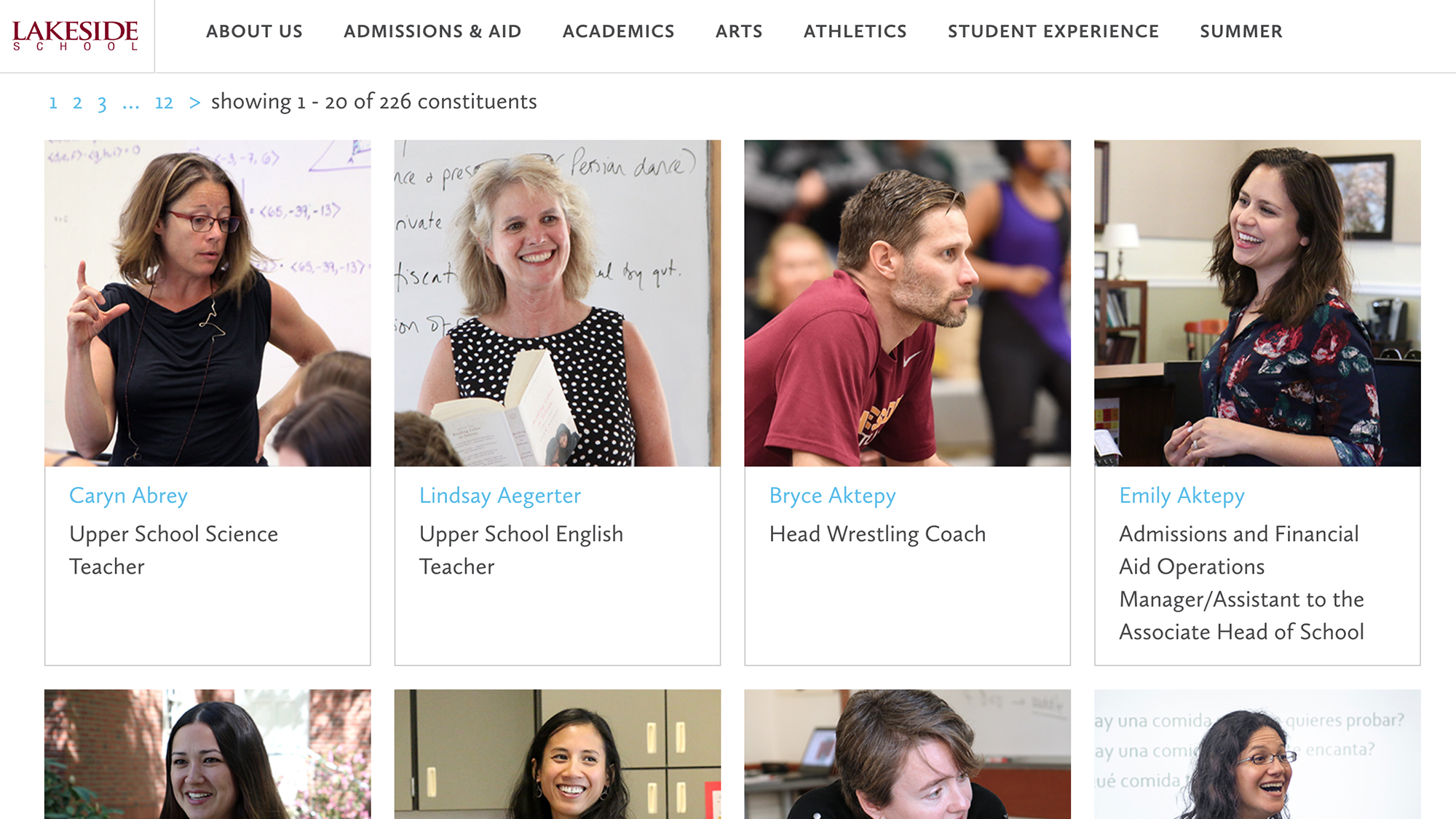 What the judges said: "Organization and clean layouts defined all of our finalists, but when you factor in the search experience and offer a personal connection, you get a winning combination. The judges' choice went the extra mile with unique photography and great quotes that capture the essence of why their teachers and staff love their calling."
Lakeside School is an independent, coeducational day school for students in grades 5-12. Their Upper and Middle School campuses are nestled in a wooded area at the north end of Seattle, Washington's city limits.
Lakeside's faculty and staff directory stood out for its creative approach to photography and biographies. Each candid photo shows a teacher or staff member in their element, actively teaching, coaching or working. Profiles for each constituent were kept simple and focus on a quote from each person, telling the story of what kind of people make up the school, how passionate they are, how much they care about the students. The entire directory is searchable and makes getting in touch with anyone at Lakeside easy and enjoyable.
---
Best Form Award
Winner: Conserve School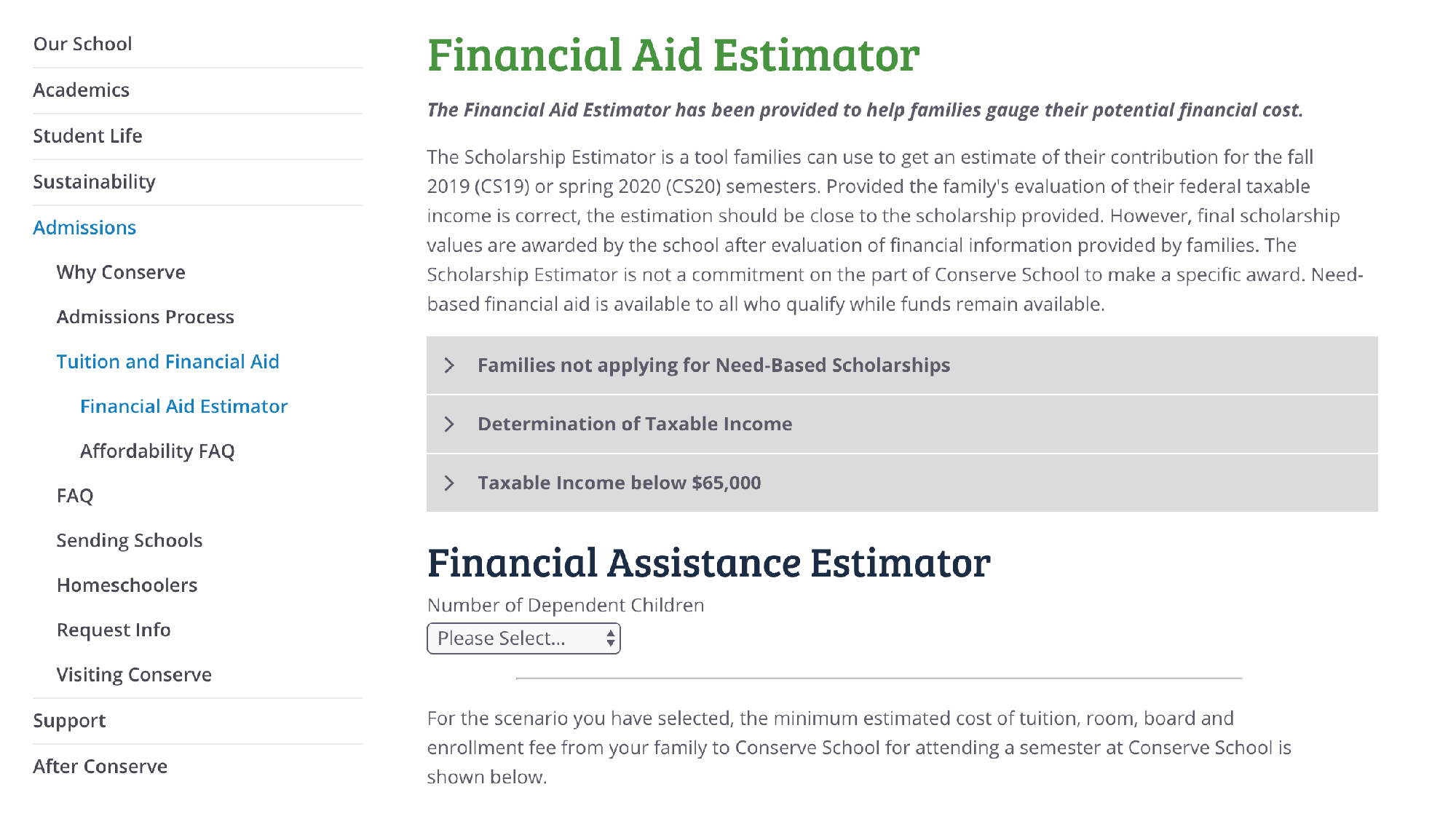 What the judges said: "Most forms collect information, and sometimes a lot of it. But sometimes a form is just a wonderful and unique way for users to interact with the site. Our winner's simple and powerful form utilizes conditionals to effectively convey information essential to the admission process."
Conserve School offers semester-long immersion in environmental studies and outdoor activities for high school juniors, located in Land O' Lakes, Wisconsin.
Conserve wanted to provide prospective families with estimated tuition for 468 different combinations of family size and taxable income in a clean and compact format. The financial aid estimator form did the trick. In addition to providing families with a projected financial aid award, those families that clicked on the "submit" button, aptly labeled "Learn more about the Conserve School Scholarship Program" at the bottom of form, provided Conserve School with information about the financial situation of families exploring Conserve School as an option.
---
Best Use of Google Analytics in Decision-Making Award
Winner: Charles E. Smith Jewish Day School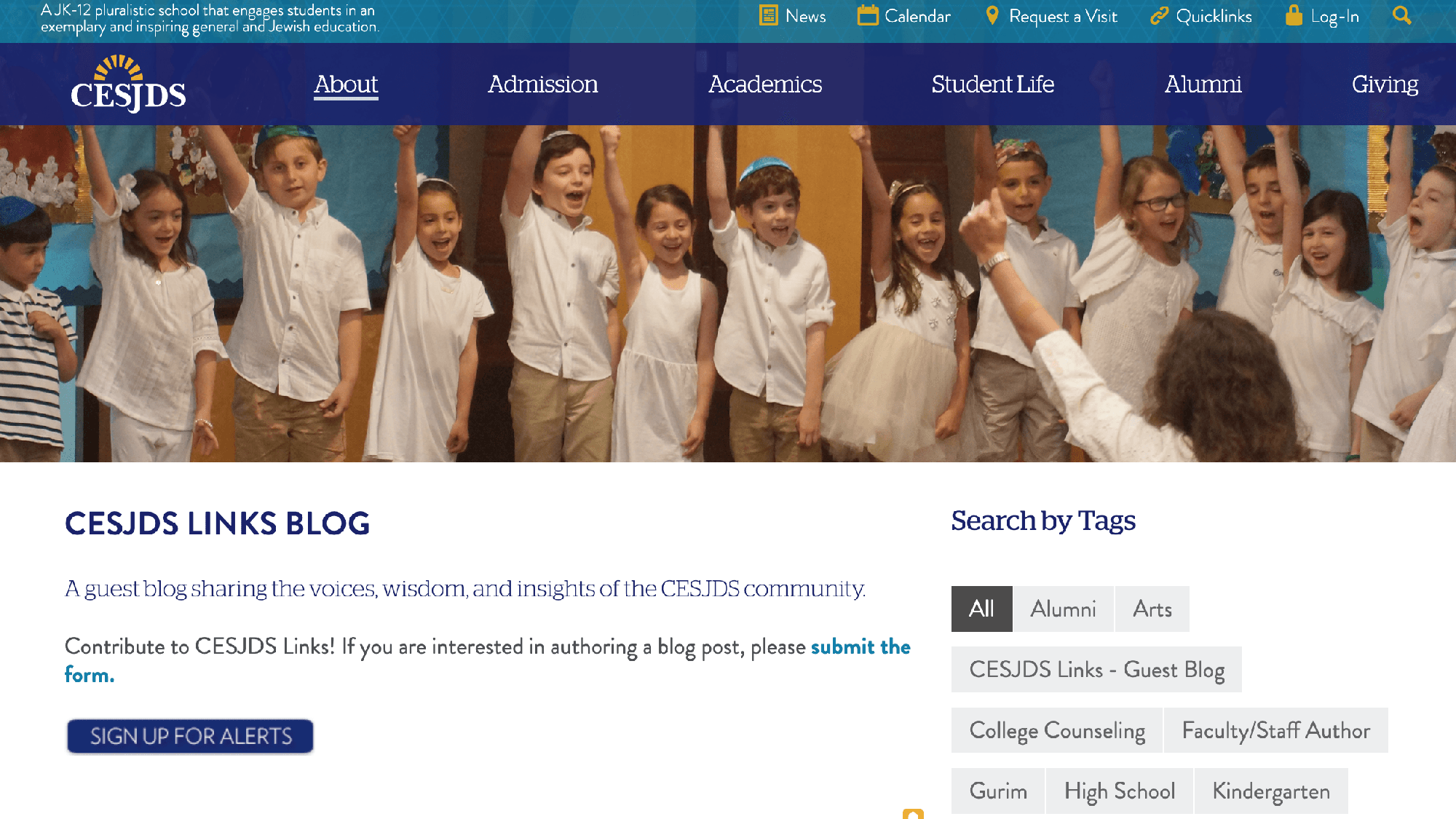 What the judges said: "In the world of data-driven decisions, every marketing choice needs to be backed up and proven effective. Our judges loved our winner's clear use of stats in measuring a specific goal. They saw a number. Didn't like it. Made a plan. And rechecked the stats to measure success. Bringing email, website, and social media analytics together led to a 54% increase in blog readership in one year."
Charles E. Smith Jewish Day School (CESJDS) is the only pluralistic Junior Kindergarten-Grade 12 community school in the Washington, D.C. area, and one of only a few in the United States.
CESJDS conducts a basic analytics report each year, looking at email, website and social media analytics. After increasing the amount of content, both repurposed and unique, posted to their guest blog CESJDS Links in 2016–2017, they were ho-hum about the just under 10% increase in readership. The team changed their strategy in 2018, had a solid and formal editorial calendar, and tied in a social media promotion strategy including the use of boosted posts and advertising. As a result, they increased readership 54% from 2017 through 2018!
---
Best Google Search Campaign Ad Concept
Winner: Maret School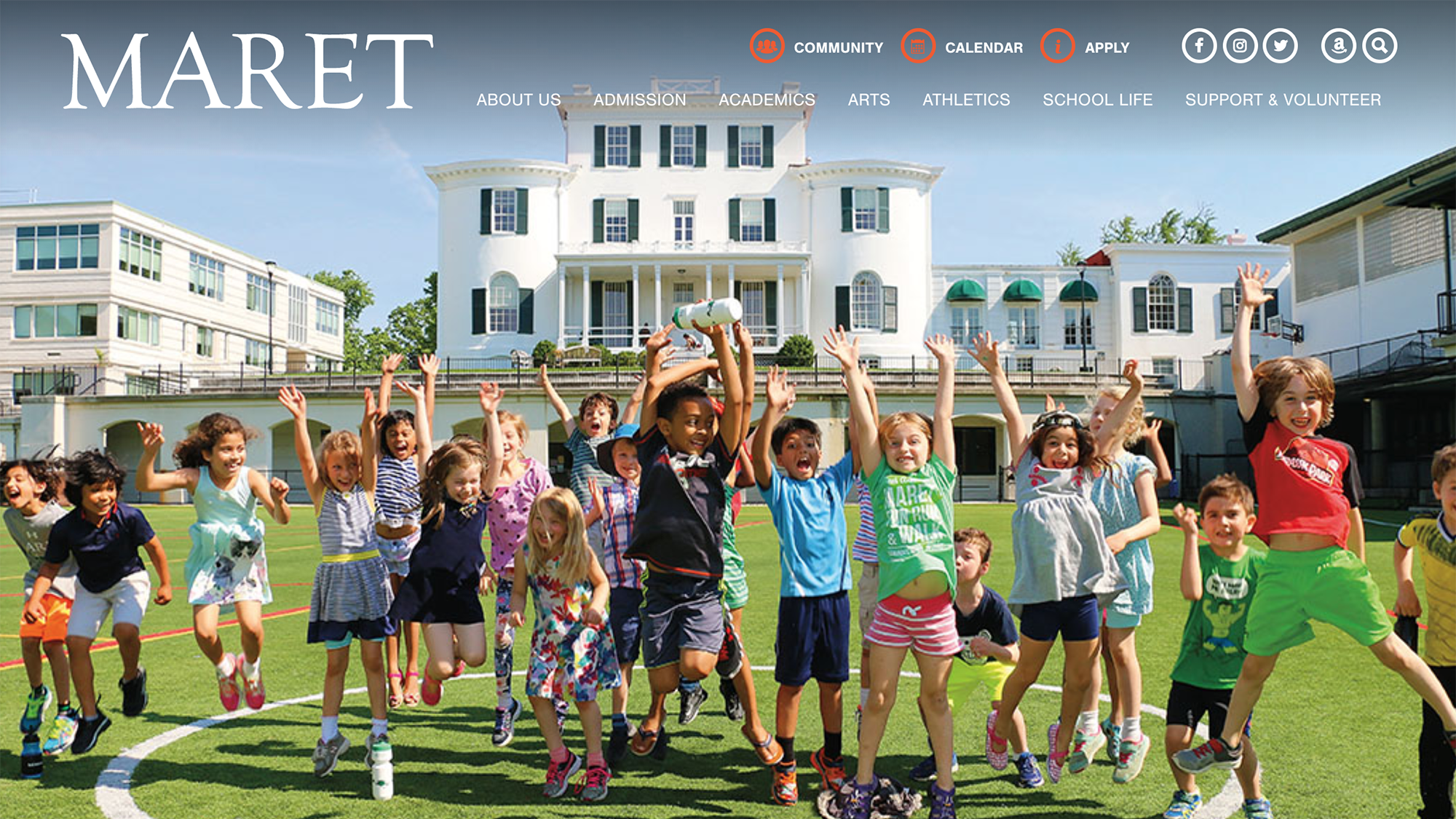 What the judges said: "Our winner's ad concepts focused on convincing admitted students and parents to make the choice to enroll. The custom landing page was specifically designed to pique the interest of families who may have been torn between multiple options, and the results were impressive."
Maret School is an independent, co-ed, college-preparatory day school in Washington, DC, with 650 students in grades K-12 all on one campus.
Maret came up with an ad campaign concept called "Where else but Maret" designed to run for 4-6 weeks from the time acceptance letters go out until decisions needed to made by families. The ad was supported by a custom landing page that could only be accessed by clicking on that specific ad and helped to make the case when a family might have multiple options of where to send their child/ren. The results were 5000 free impressions, 117 clicks (2.37% CTR), 29 non-bounce sessions, 2.91 average page views, and multiple users spending five or more minutes on the site. Wow!
---
Best Message or eNotice Award
Winner: Latin School of Chicago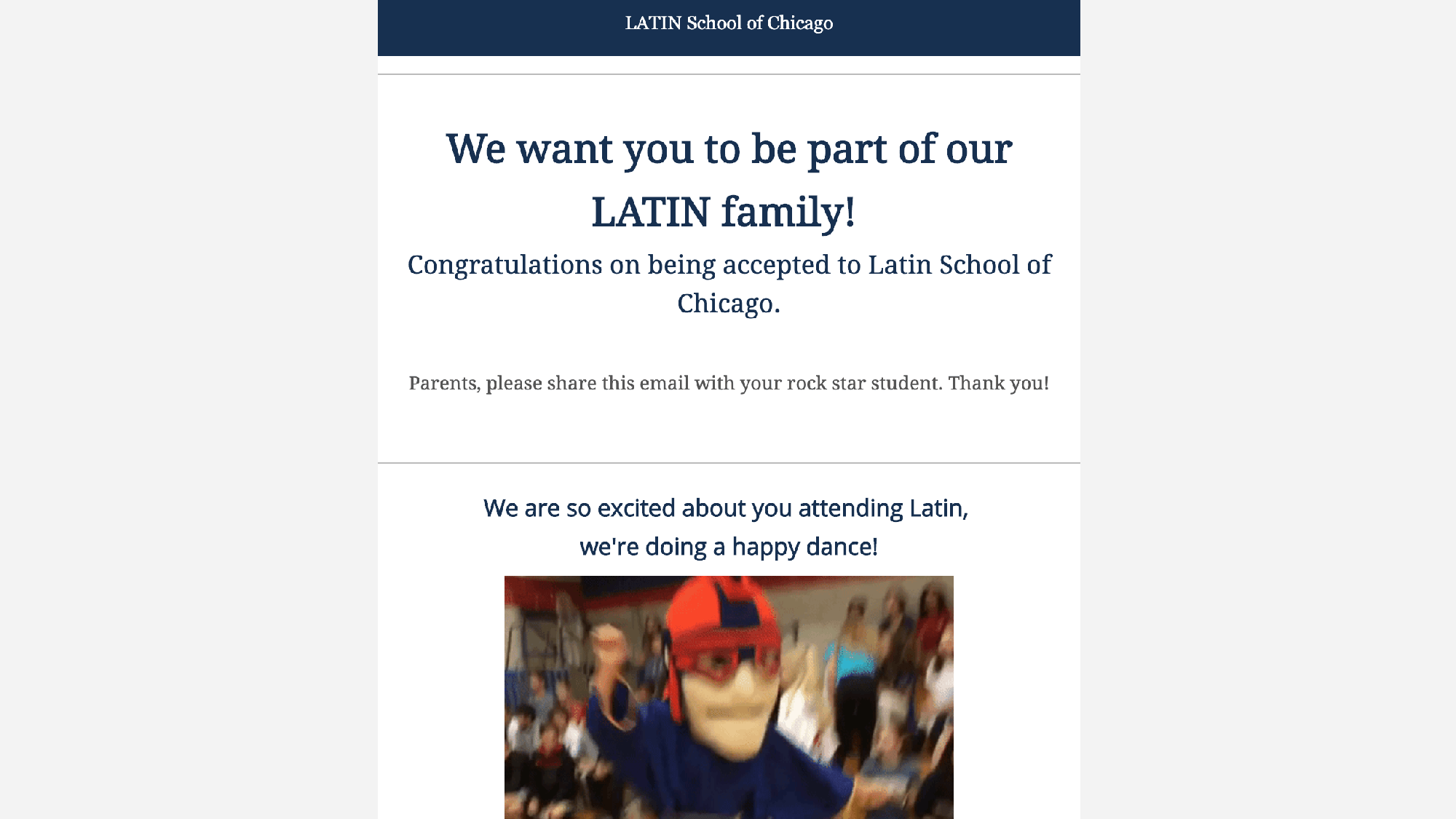 What the judges said: "The winning email was fun, engaging, and successful. Sometimes there is too much of a misconception that things need to be professional in a way that borders on boring. Their open rate alone suggests otherwise."
Latin School of Chicago is a coeducational day school serving students in grades JK-12. Latin students come from 96 Chicago neighborhoods and 14 suburbs.
Latin School put together their ultimate buzz-worthy Admissions yield email, with an open rate of 84.48%. The subject line was engaging and to the point: "We want you!" The email was more playful to directly engage students and show them how fun and quirky the Latin experience really is. A Boomerang animated GIF and other animations from repurposed admissions video clips spruced up their design. Text was more abbreviated and to the point: kids are used to succinct messages and texting.
Latin Communications Director Trisha Flassing shared, "Our admissions yield was record-breaking and we had the wonderful problem of wondering where in the world we would put the overflow of students. (Seriously!)"
---
Best Page Pop Award
Winner: Westmark School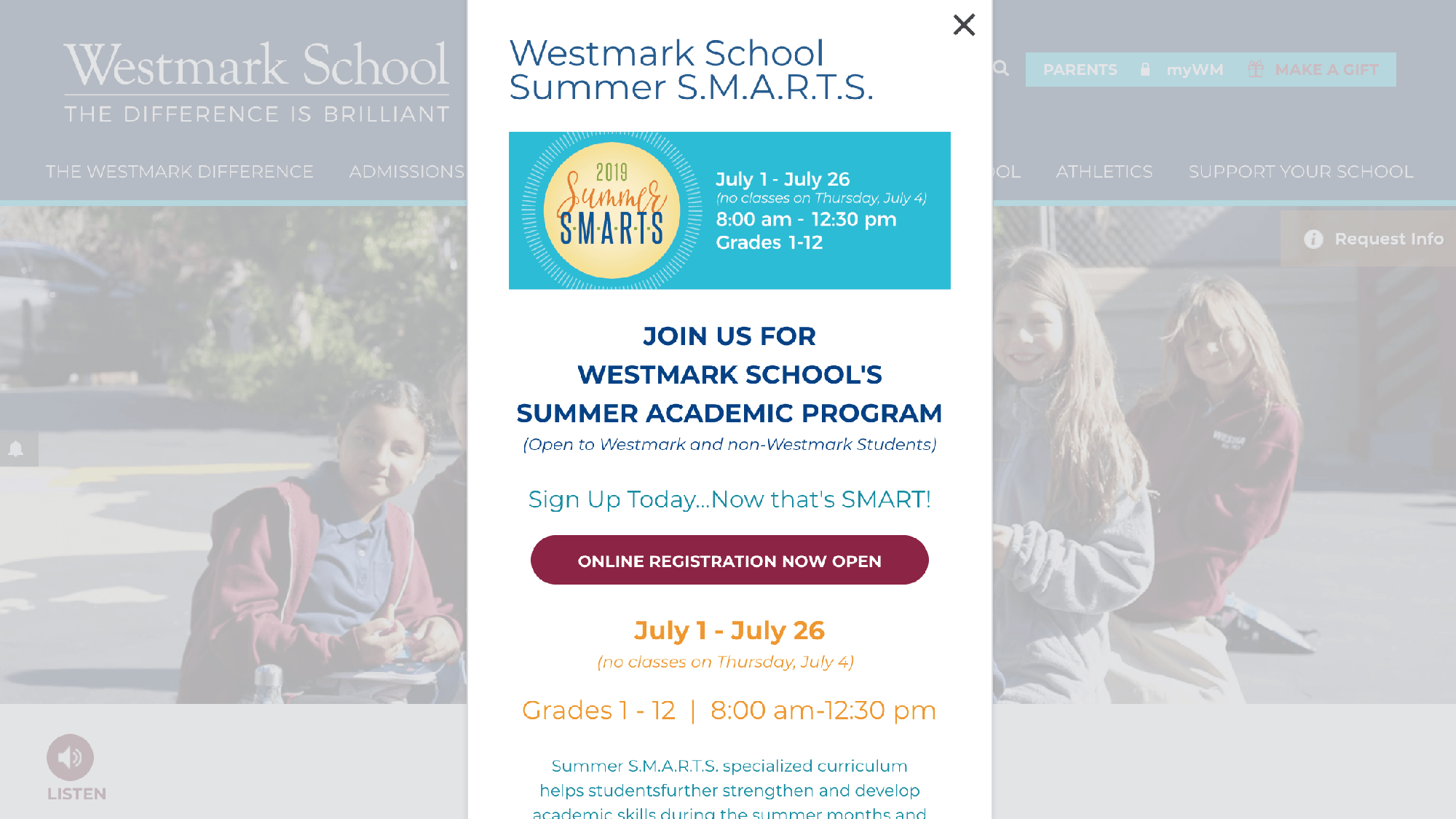 What the judges said: "When it comes to Page Pops, it's all about capturing attention quickly. Whether through an image or a video, our judges were presented with strong branding and a ton of eye candy. Use of color and excellent calls-to-action set our winner apart."
Westmark School builds on the strengths of students in grades 2-12 with language-based learning differences just north of Los Angeles, California.
Westmark's Page Pop advertised Westmark Summer S.M.A.R.T.S., a specialized curriculum that helps Westmark students further strengthen and develop academic skills during the summer months. The fun colors and easy calls-to-action led to more than 100 registrations while the Pop was active, from late March through June 1 before the summer academic program began on July 1.
---
Best Portal Award
Winner: Spring Lake Park Schools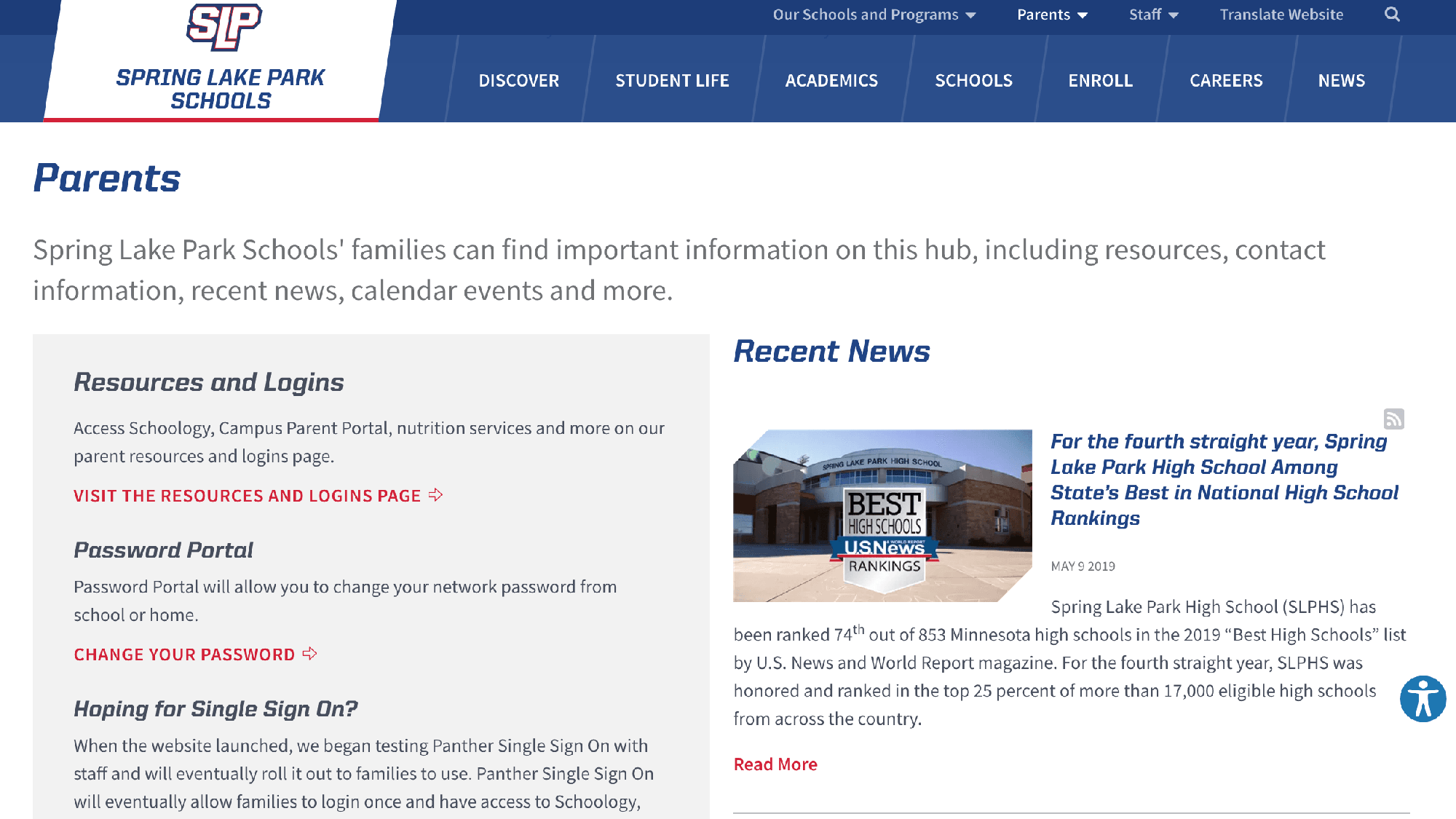 What the judges said: "Portals need to convey a lot of key information to some of your most important school constituents. It's easy to overwhelm with tons of pages and content. Our finalists all made excellent use of page elements and visuals to point everyone in the right direction. Our winner went the extra mile, utilizing a ton of Composer tools and even integrating social media to create space that parents all over the district want to use."
Spring Lake Park School District 16 is a Minnesota school district serving 6,000 students from the cities of Blaine, Spring Lake Park, and Fridley.
With the launch of their new website, the Spring Lake Park Schools team changed the purpose of school home pages and many landing pages from a sort of bulletin board for current families to a marketing tool for potential families and staff. To ensure current families still knew where to find the information that they needed the most, such as logins, attendance phone numbers and nutrition services information, they created a new Parent Portal. The team looked at the top visited pages on the former website and intentionally created this simple parent hub, full of resources just for parents. It has had more than 11,000 views on this page since launch in October 2018, with nearly 6,000 unique visitors.
---
Best Use of Posts Award
Winner: Seattle Preparatory School
What the judges said: "While we had submissions featuring great student content, ways a gift can make a difference, and even puppies (!), our winner was the clear choice. Not only does content still work for a taste of Christmas in June, but the day-to-day Advent progress was fully automated. Every night at midnight the placeholder image would magically flip into the colorful full stories."
Seattle Prep is a Catholic, Jesuit college preparatory school educating students grades 9-12 on Capitol Hill in Seattle, Washington.
After more than a decade with a print solution, SeaPrep brought their annual Advent calendar online in a beautiful adaptation with attention-grabbing artwork and daily sharable content. Clicking on any of the images takes you to the corresponding page where you can find a larger version of the image, artwork credit, the date, that day's Bible readings, and a short bio of the person who uploaded that day's post. You can also find quick, convenient links to other days through the same thumbnails on the left side of the post. Recreating a physical Advent calendar online was made easy thanks to the flexibility of Posts to arrange, create, link, and display content.
---
Best Use of Resources Award
Winner: The Hill School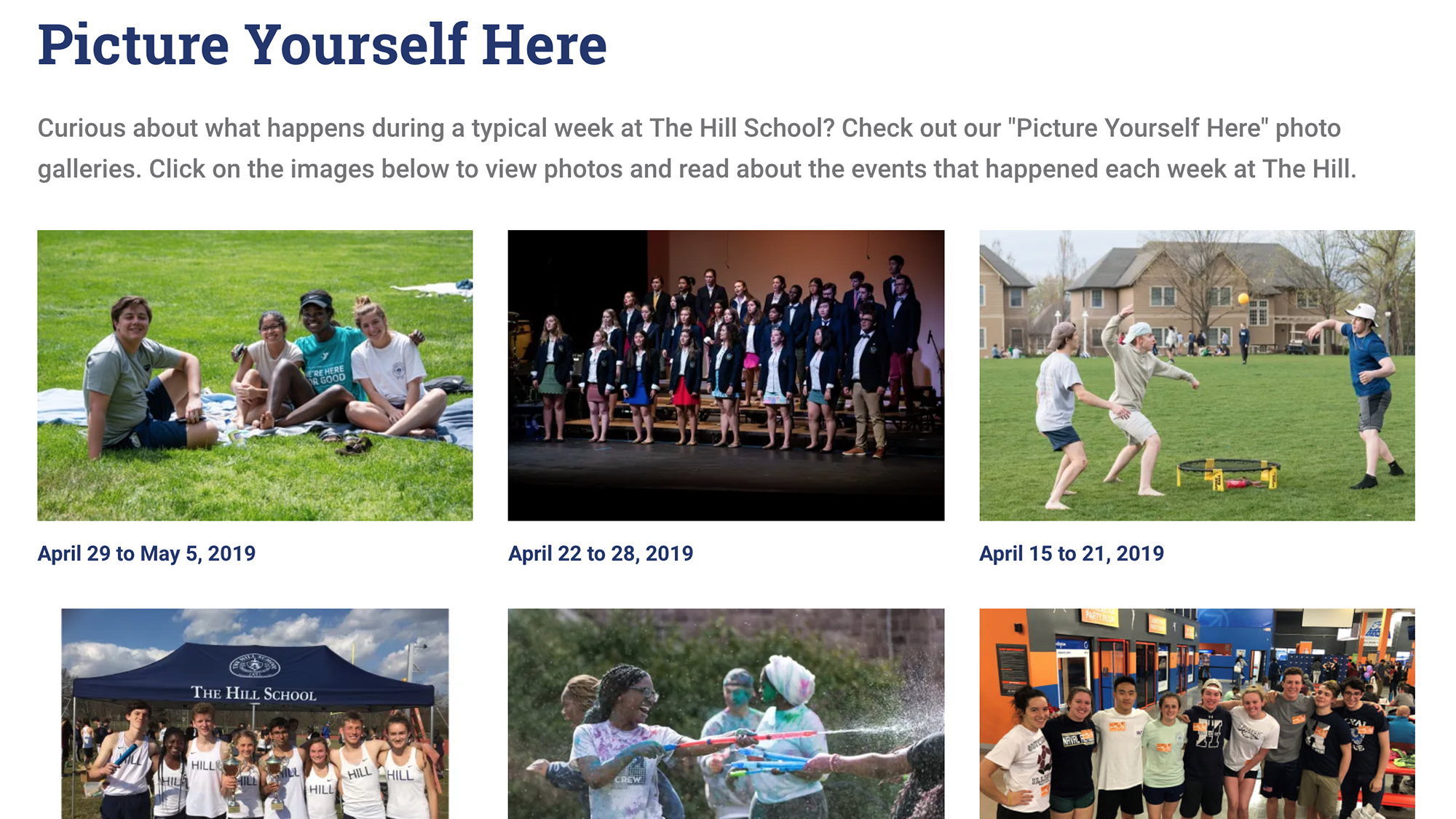 What the judges said: "Every school wants visitors to step foot on campus and feel at home, and Resources can help you achieve this end-goal virtually. What's better than a day in the life? Every week in the life! Our winner built a fantastic-looking "Picture yourself" gallery that makes use of complex Resources AND Posts features, successfully telling many stories."
The Hill School, also known as "The Family Boarding School," is a home-away-from-home for young men and women from 28 states and 28 countries, in Pottstown, Pennsylvania.
The Hill's Picture Yourself Here photo gallery shows off one picture from a typical week on campus. Click on each photo and you dive in even more, with a full synopsis of the week and plenty more photos to truly help prospective students put themselves into the shoes of current students. It's completely immersive and helpful for anyone who may be apprehensive about boarding school life.
---
Best Use of a Theme Design Award
Winner: Heritage Christian School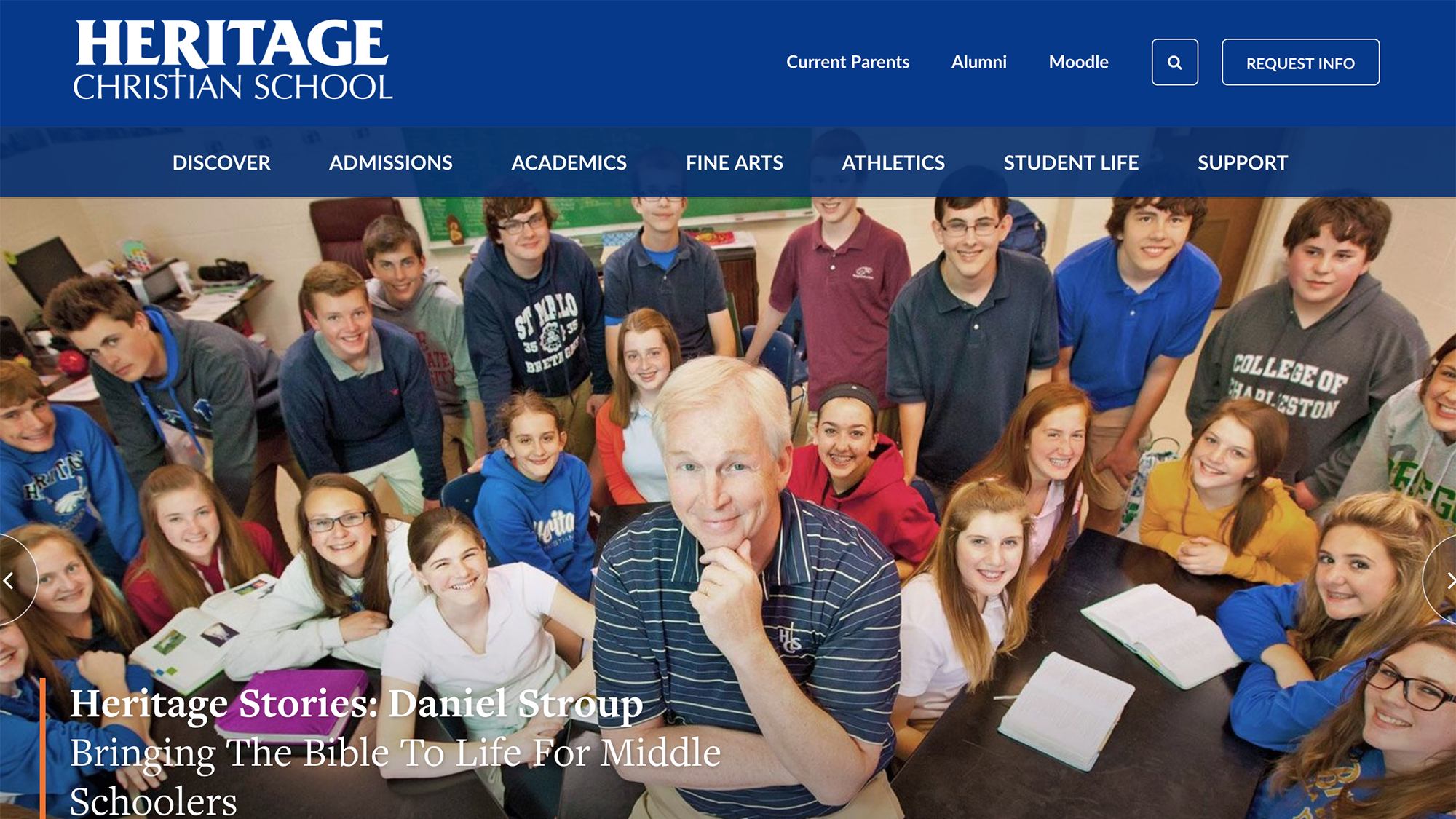 What the judges said: "It's easy for 'theme' to mean 'boring template,' but our finalists broke the mold. Making excellent use of their full style guide and making page layouts that are logical and meaningful helped our winner stand out. Crisp photographs were the icing on the cake!"
Heritage Christian School is a private, Christian day school for grades preschool through 12 in Indianapolis, Indiana.
Finalsite theme designs make creating new websites easy: schools can launch a new, top-notch site in under 60 days and the theme customization process ensures the site truly resembles a school's brand. But after launch, there's still work to do, and Heritage Christian knocked it out of the park. Every page takes advantage of site features such as callout boxes, calls to action, consistent use of Composer layouts and layout elements, and more. Every page feels super custom when beautiful photography is incorporated.
---
Watch the entire Double Diamond Awards Show!
---
What do you think? Are you ready to take this inspiration to your own digital marketing this summer? If you do, don't forget to share using #DoubleDiamondAwards.
We can't wait to bring this new tradition honoring our clients' great work to FinalsiteU London and Finalsite U Asia in the future, and begin preparing for a magical ceremony in Orlando at FinalsiteU 2020 in March. Keep an eye out for the nomination form to go live again soon.
Stay shiny, friends!
---
ABOUT THE AUTHOR
As a former independent school communications director and a current Finalsite Client Success Manager, Sam knows the ins and outs of making marketing magic happen. She excels at helping schools in North and South America optimize and streamline marketing efforts for the biggest impact.
Marketing/Communications
Web Design