The 1, 2, 3's of Net Tuition Revenue For Independent and Private Schools
Connor Gleason
Despite their best efforts, admission offices with bright, hard-working enrollment professionals aren't always successful in enrolling enough students. Low birth rates, more school choice, and rising tuition will continue to challenge schools when it comes to meeting their admission and enrollment goals.
However, switching to a strategy that focuses on net tuition revenue can quickly improve a school's financial health, and work toward meeting your private school's enrollment numbers.
What exactly is a net tuition revenue model?
Although different net tuition revenue models have many nuances, a net tuition revenue model for schools is the concept of working to fill spaces that would otherwise go unused with students who can pay only a part of the tuition, even after all budgeted financial assistance and tuition aid have been allocated.
Not only does it bring in more revenue quickly, but it fills seats, helps you right-size your school, and can welcome a more diverse group of students to campus.

Keep Reading: 5 Benefits of a Net Tuition Revenue Model For Private Schools
How do you implement a net tuition revenue model?
Here are three steps to help you implement a net tuition revenue strategy:
Step 1
Take a deep look into your admissions process to determine how many more students you could accommodate in each grade without having to incur large expenses, such as having to hire additional teachers and support staff, or acquire an extensive amount of technology to assist with teaching.
Step 2
When each student applies through your enrollment management software, ask yourself: from now until graduation, is the total amount of tuition greater from enrolling this partial-pay student or from enrolling a full-pay student for fewer years?
Here's an example: Charlie can pay your school $8,000 each year in grades 6-12 for a total of $48,000. Or, you could leave this space empty for grades 6-8, then enroll a student in the future who pays your full tuition of $15,000 in grades 9-12 for a total of $60,000.
Sorry, Charlie, there's no funding for you at this time. However: if another student, Angelita, can pay $12,000 per year for a total of $72,000 across six years, then congratulations Angelita — you've been accepted with a financial aid grant.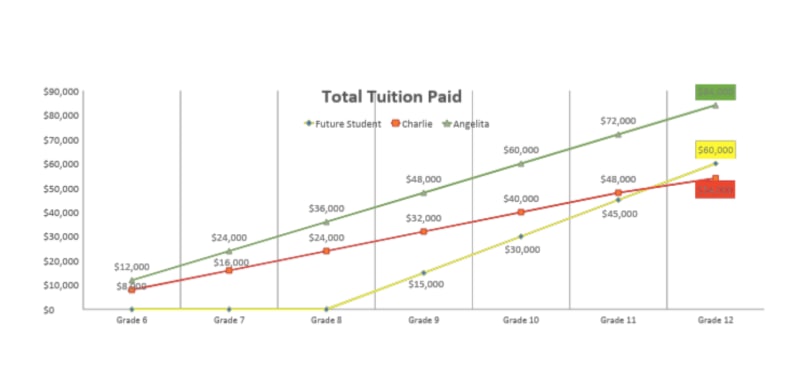 Step 3
Repeat Step 2 until your school is at capacity. With your school's billing software, like the billing and tuition software offered through Finalsite's enrollment management system, business offices can set their own payment options, schedules, and payment plans to meet families where they are.
Keep Reading: Marketing Your School's Net Tuition Revenue & Financial Aid
What are the objections to a net-tuition venue model?
Objection 1: "Does this devalue our education?"
A limited number of schools are fortunate enough to fund 100% of the financial need of all their students from the investment returns of their substantial endowments. However, most schools can only fund a portion of their students who receive financial aid from the school's endowment proceeds, and for the rest of the students who need financial aid, they simply discount their tuition.
Of course, "discount or devalue" might be too negative for schools, so this line item on the budget often refers to Unfunded Financial Aid Allocations, or something similar.
At its most basic level, a net tuition revenue model is simply extending the amount of discount given to students beyond the traditional financial aid budget. There is nothing unfair or mysterious about this; rather, it just makes good business sense.
The benefits are that your school enrolls more mission-appropriate students and receives more revenue, which helps reduce costs across the board. Additionally, you're able to welcome a larger group of students who have financial needs and provide an exceptional private school education.
Objection 2: "How can awarding more financial aid to students be sustainable?"
This net tuition revenue model does not take the place of strategic marketing and the hard work required to enroll as many tuition-capable families as possible. If you are completely successful in filling your school with students who pay full tuition and students who receive grants from your financial aid budget, then there is no financial gain for you to continue to award aid.
However, if you have unfilled spaces, you should consider this type of net tuition revenue model. This requires school administrators and board members to recognize the value these additional partial-pay students bring to your school, rather than focusing on the financial aid awarded. What matters is how much money your school has to operate.
To become more comfortable with the percentage of your students who receive financial aid, think about what your school would be like if you do not fund these additional students.
Objection 3: "Isn't this a slippery slope?"
Ideally, as your market strengthens, you won't need to fund as many students and can eventually stop using a net tuition revenue model – it's easy to turn on when you need it and turn off when you don't. You ask, "But what if the market doesn't rebound?" Consider this: "Wouldn't you be worse off without these additional students who each pay some tuition?"
Key takeaway
This type of net tuition revenue plan is not a permanent cure for all of your enrollment and revenue challenges, but it may be a very effective strategy to consider if you'd like to add more students to your school while adding more revenue to your school's budget.
---
ABOUT THE AUTHOR
Connor has spent the last decade within the field of marketing and communications, working with independent schools and colleges throughout New England. As Finalsite's Senior Content Marketing Manager, Connor plans and executes marketing strategies and digital content across the web. A former photojournalist, he has a passion for digital media, storytelling, coffee, and creating content that connects.